Easy Way to Find the
Perfect Property
At Oseyemu Homes and Investments we develop, manage and sell properties of all categories. 
Driven with a mindset of shelter affordability, with Oseyemu Homes and Investments you get to be a landlord with affordable housing and investments. We are focused on providing shelter and reach as many people as we can. We walk daily in the shoes of our customers to ensure we provide the best investment products for you.
Delight Homes Phase 1 Terraces Duplex
Indulge in the epitome of modern living with our newly constructed, luxurious 2-bedroom and 3-bedroom terrace duplexes within the exquisite confines of Delight Homes Phase 1.

This exclusive estate boasts an array of exceptional features designed to elevate your lifestyle.
Prices: 500SQM: ₦5.5M, 415SQM: ₦5M, 300SQM: ₦4M
Prices: 500SQM: ₦1.5M, 300SQM: ₦800K
Prices: 500SQM: ₦1.6M, 300SQM: ₦850K
Join our realtor program and earn commission on each successful sale you referred. Apply today and start earning! Earn up to 18% commission for land and 5% for houses.
Real estate is one of the largest industry in the world and has produced so many billionaires.
Your network determines your net worth. Join us today and raise your game.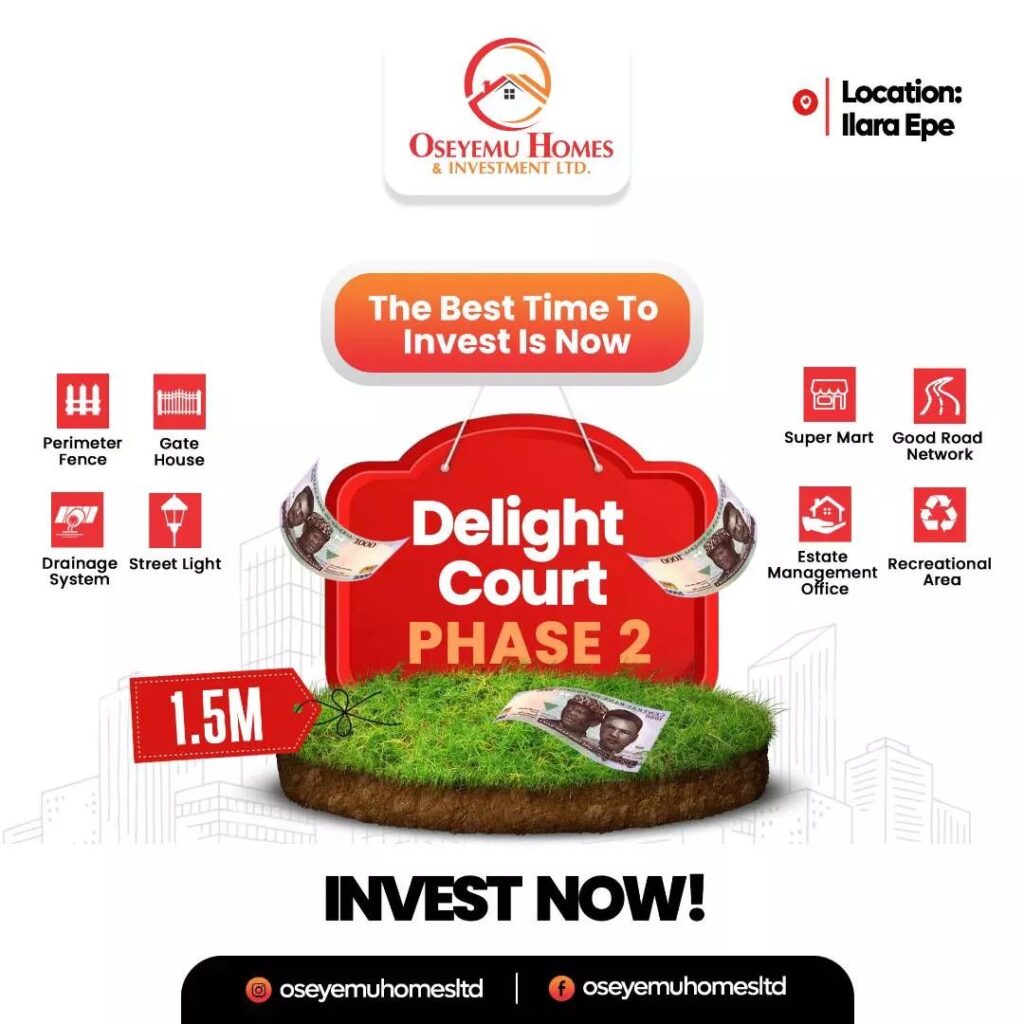 Fill the form below and we will get back to you. Charles Ogbona
"Oseyemu Homes and Investments helped me find the perfect home in Lagos. Their team is knowledgeable and patient, and they made the process easy and stress-free." Patek Felix
"I highly recommend Oseyemu Homes and Investments for anyone in need of real estate services in Nigeria. They are professional, trustworthy, and truly care about their clients." Bena Osu
"Oseyemu Homes and Investments exceeded all of my expectations. They helped me sell my property quickly and at a great price. I couldn't be happier with their services."
Start the process of getting your dream home for yourself and your family by clicking the button below