Delight Homes Phase 1 Terraces Duplex
Indulge in the epitome of modern living with our newly constructed, luxurious 2-bedroom and 3-bedroom terrace duplexes within the exquisite confines of Delight Homes Phase 1.

This exclusive estate boasts an array of exceptional features designed to elevate your lifestyle.
Imagine strolling under the warm glow of street lights, your surroundings enhanced by an efficient drainage system that ensures a clean environment. Delight in the convenience of having a supermarket at your doorstep, catering to your daily needs. Engage in leisure and relaxation at the thoughtfully designed recreational area, where you can unwind and rejuvenate. With a dedicated management office on-site, your comfort and concerns are just a step away from being addressed. All of this comes together in the vibrant location of Epe, Lagos, Nigeria, promising not just a home, but an experience that redefines contemporary living.
Perimeter Fences
Gate House
Drainage System
Street Light
Good Road
Supermarket
Management Office
Recreational Area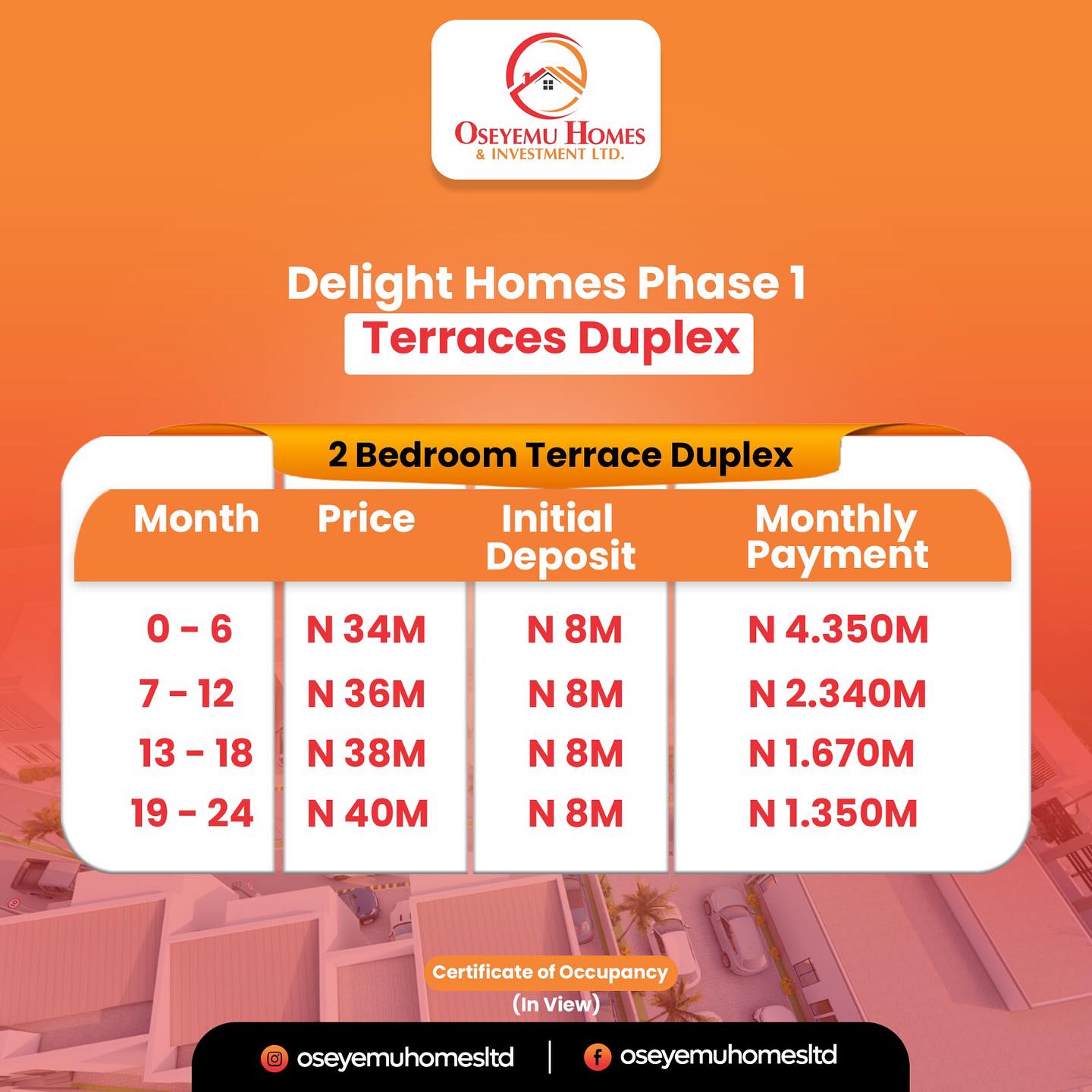 Two Bedroom Terrace Duplex
Payment Plan
Outright Price:  ₦‎34,000,000
(0 – 6)  Price: ₦34m Initial Deposit: ₦8m Monthly Payments: ₦4,350,000
(7 – 12)  Price: ₦36m Initial Deposit: ₦8m Monthly Payments: ₦2,340.000
(13 – 18) Price: ₦38m, Initial Deposit: ₦8m, Monthly Payments: ₦1,670,000
(19 – 24)  Price: ₦40m, Initial Deposit: ₦8m, Monthly Payments: ₦1,350,000
Three Bedroom Terrace Duplex
Payment Plan
Outright Price:  ₦‎42, 000,000
(0 – 6)  Price: ₦42m Initial Deposit: ₦10m Monthly Payments: ₦5,350,000
(7 – 12)  Price: ₦44m Initial Deposit: ₦10m Monthly Payments: ₦2,840.000
(13 – 18) Price: ₦38m, Initial Deposit: ₦10m, Monthly Payments: ₦2,000,000
(19 – 24)  Price: ₦46m, Initial Deposit: ₦10m, Monthly Payments: ₦1,590,000